Enclosure of Stainless Steel Hygienic for the food industry
Delvalle is proud to present the new enclosure of stainless Steel Hygienic series for food industry, this series is the result of a lot of effort, research and work of our technicians, for this reason, Hygienic series have been brought to market in record time.
It has managed to adapt this series relating to the three benchmark enclosures from Delvalle, bringing to market models Geo Hygienic, Luxor Hygienic, Tribeca Hygienic.
This new series of stainless steel enclosures is ideal for the food industry, it has hygienic locks with IP69K, its blue gasket of silicone and a leaning roof.The hygienic locks selected by Delvalle have not openings and prevent the entrance of dirt inside of lock, as well they have easy cleaning with a jet of hot water. The silicone gasket for its special form does not allow dirt between the gasket and the door edge, besides not being porous prevents you from becoming a source of bacterias. The leaning roof allows quick cleaning with a jet of hot water, preventing stagnant water can be on top. We also have cable glands IP69K for a correct entrance of the wires.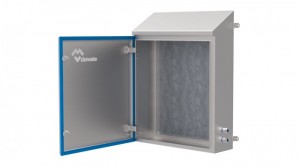 Furthermore, this new Hygienic series meet the highest quality standards for the food industry:
EC 1935/2004 rule compliant for materials intended to come into contact with food.
DIN EN ISO 14159 Machine safety –Hygiene requirements pertaining to the design of machinery.
Machinery Directive 2006/42/EC (previously 89/37/EC) Food machinery and cosmetic or pharmaceutic production.
EHEDG Guideline Hygienic Design doc.13 machinery for open processes.
DIN EN 1672-2-2005 for food industry machinery
Delvalle want to differentiate  of others competitors by offering increasingly innovation and means to our customers.