Resistance Heaters UL for electrical enclosures
Resistance Heaters UL for electrical enclosures
Temperature variations inside control cabinets and housings, especially when installed outside, lead to condensation of water and consequently to malfunction and corrosion. Through the use of enclosure heaters, temperature variations can be reduced and condensation of water avoided.
The resistance heaters UL are equipped with a PTC heating elements and are self-regulating, operate without temperature control and have a thermal output that varies only little over a wide voltage range. An optimum heat dissipation is achieved through profiled aluminum housings with small dimensions. Heaters for thermal outputs of 130W to 1000W are equipped with fans in order to produce an air circulation.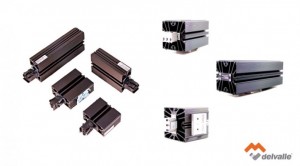 Enclosure heaters are used in traffic light, traffic monitoring systems, ticket machines, crane systems, telecommunication systems as well as in machines for foodstuff industry.
Advantages:
Self-regulating PTC.
Simple and quick mounting in DIN 35mm.
Attachment with clip on mounting rail.
Optimized profile with improved heating power and smaller surface temperature.
Alternative for voltage ranges 12-24v or 110-240V.
Norms:
Built under directive 2006/95/CE low voltaje.
It is recommended the mounting of thermostats and thermo-hygrostats together with resistance heaters UL.